Flexible Hose Machine
The metal flexible hose machine is commonly utilized for vacuum cleaners, sanitary purposes, electric cable bushing, and more. The raw material processed can be aluminum strip, stainless steel, and galvanized steel, among other composite materials. The lock profile can consist of the interlock or square lock, in accordance with various flexibilities and bending radiuses.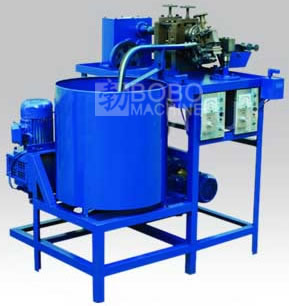 Square Lock Flexible Hose Machine
The square lock flexible hose machine is categorized under the single lock profile. It is highly recommended that one machine be restricted to one diameter size only for it is difficult to swap forming parts. The machine is equipped with two inverters to maintain the same forming and drum rotary speed for better efficiency. BOBO supplies the hose collection drum as well as the forming unit. The collection drum should be ordered separately when the hose diameter exceeds 4 inches or 100mm. Free training is provided in our plant, commissioned training is also available upon request. The completed flexible hose is of the highest quality, qualified for American or European standards.
Single Lock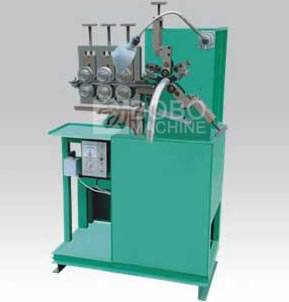 Interlock Flexible Hose Machine
The interlock flexible hose machine designed to be compatible with double lock flexible hose applications. With quality forming roller consisting of high integrity steel that passed quenching and heat treatment, the machine is fully loaded with a functional inverter that controls the forming speed. Unlike the square lock, the interlock flexible hose machine may be calibrated for different various diameter sizes within a predefined range. Training is provided at our plant, technicians are also available for on-site installations, training, and commissioning at client's request. The completed flexible hose is of the highest quality and is fit for sale by the American and European standards.
Double Lock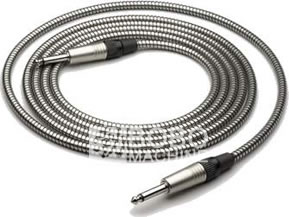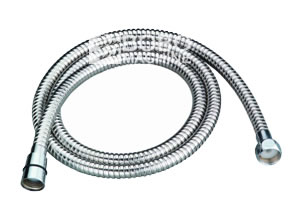 Technical Specifications
Diameter range: 3/8"-6"
Width of material: 7.1mm-25.5mm
Thickness of material: 0.15mm-0.80mm
Production speed: 2m/min
Motor power: 2.2kW x 2, 380V, 50Hz, three phase
Dimension of machine: 950mm x 850mm x 1400mm
Weight: 800kg
As a China flexible hose machine manufacturer and supplier, we also provide car wheel rim machine, punch press machine, PU Gasket Seal Machine, and waste paper baler, among others.
Other Products
Outer Casing Wire Flattening MachineThe outer casing wire flattening machine is used for the flattening of a round wire into the desired shape. With a crane lifting device, it is simple and convenient to unload the steel wire bobbin. BOBO supplies two bobbins that ensure continuous work and a long service life. Equipped with a Mitsubishi inverter for working speed calibration, precision is guaranteed.

Outer Casing Winding MachineThe outer casing winding machine is used in the formation of the outer casing conduit via the spiral winding process. Key components such as the inverter are imported from highly reputable brands like Mitsubishi to ensure quality performance. The winding unit is well covered during normal operations for safety. It works fully automatically ...